Roadside Assistance Tempe AZ - Towing - Tempe
Serving The East Valley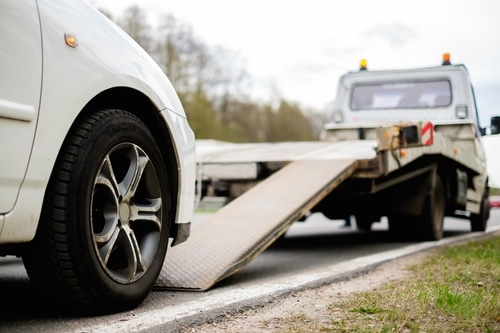 Car Emergency Services In Arizona
Rapid and Straightforward Support
Roadside Assistance Towing
Lock Out Service
Have you locked your keys in the car and are stranded and need roadside assistance or towing? Call us, we have a lot of experience getting the car door unlocked when this happens. It happens to almost everyone sooner or later. No need to worry, we will get the door unlocked so you can get the car started and be on your way.
For anyone who has locked themselves out of their car, or otherwise had their keys stolen, there is always the option of using a car lockout service. Our towing company offers this to stranded motorists. A car lockout service is a service that offers to unlock your vehicle for a fee. After the ravages of a bad storm you'll need to call a car lockout service to get your car out of the mud and covered in snow. With a quick call to Pick It Up towing, you will be able to get to your vehicle and move everything off of the road while still being in a timely manner.
Flat Tire Change

 
Even the best tires will get a flat sooner or later and then you need towing help and roadside assistance winch out services. Hopefully it will be later but when it does go flat give us a call for our flat tire service. Changing a tire in the Phoenix summer heat is probably the last thing anyone wants to do so call us to get you tire changed fast. Our fast flat tire change service will change any flat tire in any vehicle on the road. We require all flat tire changing to be preformed by our staff members, who will provide you with safety and quality care while they perform the job. Our flat tire change service is available in every area.
Flat tire is one of the worst things that can happen to you. If you need assistance and a flat tire changed, then you came to the right place for Tempe towing. We provide complete flat tire change service, and we also tow your vehicle. Our flat tire change service includes changing your flat tire, working efficiently and swiftly and providing you with a guaranteed receipt and best in class assistance. We don't just do towing.
Jump Start

 
The Phoenix heat kills batteries. Most batteries last up to about three years in the desert heat. When the battery dies and you need the assistance of a jump start let us come to you and jump the battery with our emergency assistance. Our trucks have heavy duty high power jump start cables designed to jump even high current demand starting systems. This is just one part of our towing company assistance.
A Jump start is an on-demand tow with an immediate response time, where the tow truck shows up within minutes of you contacting us. Our Jump Start tow services are intended for emergency roadside needs, such as car alignment, tire replacement and mechanical repairs, but if you have a regular car care need, you can save up to 100% off our regular prices.
Phoenix - Tempe - Towing Service